Evaluation and Treatment of Temporomandibular Disorders and Craniofacial Pain
230
230 people viewed this event.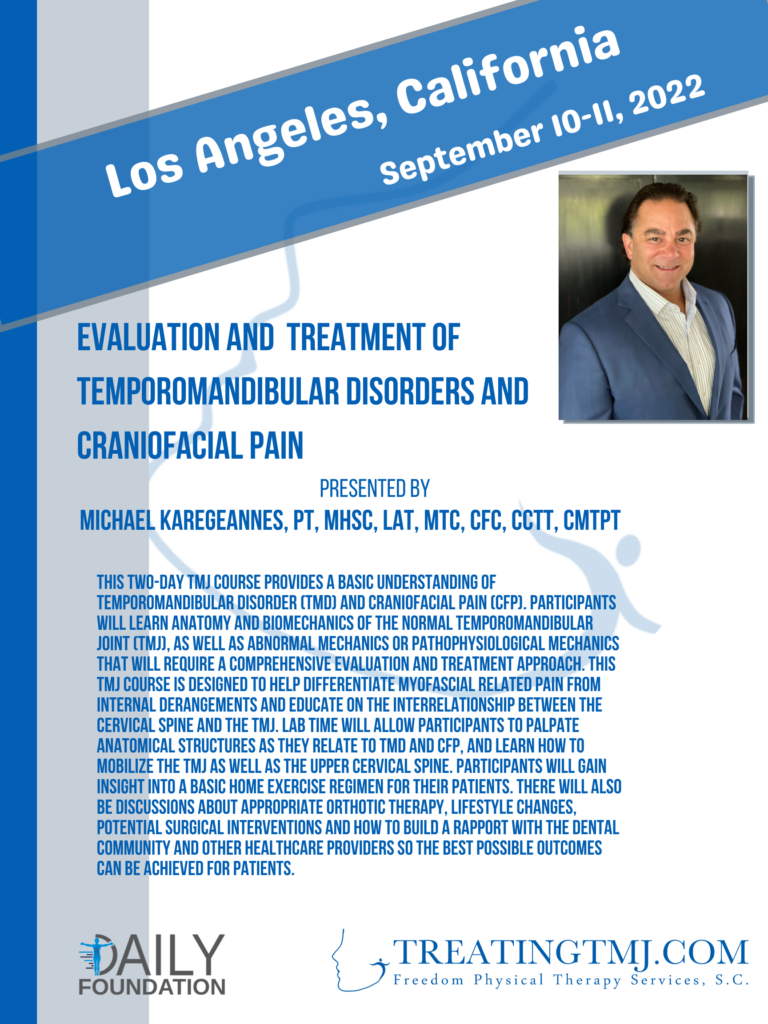 Daily Foundation is proud and excited to host its first Physical Therapy course for PT's around the nation. It will be taught by TMD specialist Mike Karegeanes PT, MHSC, LAT, MTC, CFC, CCTT, CMTPT
THIS TWO-DAY TMJ COURSE PROVIDES A BASIC UNDERSTANDING OF TEMPOROMANDIBULAR DISORDER (TMD) AND CRANIOFACIAL PAIN (CFP). PARTICIPANTS WILL LEARN ANATOMY AND BIOMECHANICS OF THE NORMAL TEMPOROMANDIBULAR JOINT (TMJ), AS WELL AS ABNORMAL MECHANICS OR PATHOPHYSIOLOGICAL MECHANICS THAT WILL REQUIRE A COMPREHENSIVE EVALUATION AND TREATMENT APPROACH. THIS TMJ COURSE IS DESIGNED TO HELP DIFFERENTIATE MYOFASCIAL RELATED PAIN FROM INTERNAL DERANGEMENTS AND EDUCATE ON THE INTERRELATIONSHIP BETWEEN THE CERVICAL SPINE AND THE TMJ. LAB TIME WILL ALLOW PARTICIPANTS TO PALPATE ANATOMICAL STRUCTURES AS THEY RELATE TO TMD AND CFP, AND LEARN HOW TO MOBILIZE THE TMJ AS WELL AS THE UPPER CERVICAL SPINE. PARTICIPANTS WILL GAIN INSIGHT INTO A BASIC HOME EXERCISE REGIMEN FOR THEIR PATIENTS. THERE WILL ALSO BE DISCUSSIONS ABOUT APPROPRIATE ORTHOTIC THERAPY, LIFESTYLE CHANGES, POTENTIAL SURGICAL INTERVENTIONS AND HOW TO BUILD A RAPPORT WITH THE DENTAL COMMUNITY AND OTHER HEALTHCARE PROVIDERS SO THE BEST POSSIBLE OUTCOMES CAN BE ACHIEVED FOR PATIENTS.